Hippies are a relic from generations gone by. Their brightly colored clothing and free spirits forever live on in popular culture through cinema, music and – wait for it – themed parties! We're halfway through May and the weather is warming up. It's time to put away the jackets and sweaters and get ready for some fun in the sun! Whether you're going to a 1970s party or just want to inject a little peace into your outfit, here are a few suggestions to help you find your inner flower child.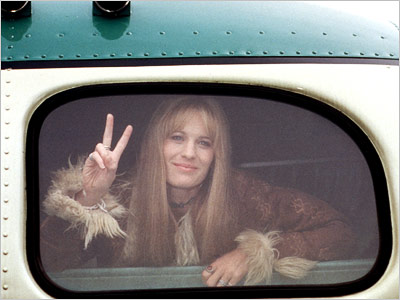 Liberate Your Hair
Whether you have long locks or a short bob, you can make your hair fit the look. A headband or flowers will immediately put you into hippie territory. If you have longer hair, accentuate the front with bangs. Bright colors are a must, so be generous with the amount of flowery accessories that make up your headgear.
Be on the Fringe
Rather, let the fringe be on you. Fringe is a big part of the hippie look – think Neil Young circa Buffalo Springfield. Leather works best, but anything will do, as long as it has fringe. Fringe! Ok, I think you get the point. Be sure to add buttons. Peace signs, smiley faces, and band pins will give it the perfect look.
Accessorize 
Whatever you have on, make sure it is fully adorned with flowers, patches, tie-dye, etc. There is no right or wrong way to look. Just make sure to have an artistic approach and focus on peace, love, and possibly two doves embroidered on the back of your shirt.
Increase the peace!